EVENT PROGRAM
| | | | |
| --- | --- | --- | --- |
| Date | Time | Schedule | Location |
| February | – | Opening of Online registrations | www.primaevadare.ro/inscriere |
| 15 April | – | Marking partial route | Academy of Politi, Baneasa |
| TBD | 11:00 | Official recognition of the route | Academy of Politi, Baneasa |
| 17 More | 21:00 | Online card payments are stopped and no longer accepts payments through the bank (transfer, cash deposit) | |
| 17 More | 15:00 | Allocation of race numbers | www.primaevadare.ro/participanti |
| 19 More | 18:30-21:00 | Registration on site / Packages lift competition | Caro City Resort, Barbu Vacarescu 164A, Bucharest |
| 19 More | 18:30-21:00 | Registration on site / Packages lift competition | Caro City Resort, Barbu Vacarescu 164A, Bucharest |
| 19 More | 09:00 | Online registration closing | www.primaevadare.ro |
| 20 More | 11:00-16:00 | Registration on site / Packages lift competition | Caro City Resort, Barbu Vacarescu 164A, Bucharest |
| 21 More | 5:00 | Route inspection by the technical team | Academy of Politi, Baneasa |
| 21 More | 09:00 | Warming up | Academy of Politi, Baneasa |
| 21 More | 09:30 | Photography by start/Critical Mass | Academy of Politi, Baneasa |
| 21 More | 09:40 | Last call to start | Academy of Politi, Baneasa |
| 21 More | 10:00 | Start | Academy of Politi, Baneasa |
| 21 More | 12:00 | first Arrivals | Hotel Complex Astoria, Snagov |
| 21 More | 15:30 | Latest Arrivals | Hotel Complex Astoria, Snagov |
| 21 More | 16:00 | tombola I | Hotel Complex Astoria, Snagov |
| 21 More | 16:30 | Premiere Ceremony | Hotel Complex Astoria, Snagov |
| 21 More | 17:30 | Lottery II | Hotel Complex Astoria, Snagov |
| 21 More | 18:15 | Volunteers greeting | Hotel Complex Astoria, Snagov |
| 21 More | 18:30 | Loading bikes in trucks | Hotel Complex Astoria, Snagov – Parking area |
| 21 More | 19:00 | Boarding buses leaving for Bucharest, Baneasa - Police Academy | Hotel Complex Astoria, Snagov – Parking area |
---
Saturday, TBD, official recognition of the route. It starts from the parking lot of the Police Academy (Baneasa Forest) la ora 11. Details on facebook event page made for recognition.
Every weekend will do some training outputs will be made together with various organizations and announced the group Home workouts Escape.
Raising packages is at Caro City Resort, din Bd. Barbu Vacarescu. 164A, Bucharest.
How to get: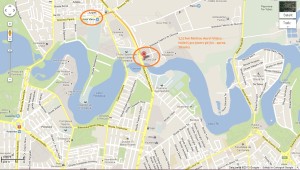 SUBWAY: Coborati the Statia de subway Aurel Vlaicu, traversati Calea Floreasca, turn right on Boulevard. Barbu Vacarescu, May go 1,12 Km Friend the intersectia cu Soseaua Factory Glucoza, and is located on the left side Caro City Resort.
Bus: 605 Station Aviation Museum; the route can be checked here.
Car: Caro City Resort parking is free for the first 45min, then 4lei / hour.