PRESS RELEASE
"Mountain Bike Queen" site, Gunn-Rita Dahle, to start the "First Escapes", Sunday 19 more
15.05.2019 The story of the largest cross-country cycling marathon (Point to Point XCP) further growth in Eastern Europe, in a new way. After last year we celebrated a decade of contests "First Escape" and we remembered the events of each edition, The participating athletes and their outstanding performance and those who contributed to the successful development of each competition, Now organizers have prepared a huge surprise. The most titled representative MTB, Gunn-Rita Dahle, also known as "Mountain Bike Queen", will start the race, Sunday 19 more 2019, with other participants. It's a unique opportunity for those riding to compete with one that dominated this branch of cycling in the past two decades.
Retired professional circuit late last year, Gunn-Rita Dahle was for 20 A trained cyclist years of cross-country și 14 years was part of the team Merida. A câștigat 10 World Cup edition, 9 European Championship, Olympic gold medal in Athens and dozens of contests proven favorite.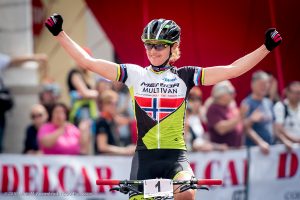 Daniel Sărdan, organizer "first Escapes"Declare when he made the announcement Norwegian athlete participation this year: "In the few days that I interacted, I realized that, in addition to the admiration I have for the sport Gunn-Rita, is more important her admiration for the human. Actually, "Mountain-Bike Queen" fits more for its way of being, for radiating nobility, for natural politeness, almost genetic, for elegance. Gunn-Rita fits the title of queen for an entire career consistency, for how can inspire other athletes, for how you can build a life in harmony with the movement, the success, family, friends, the world, at the same time having a dosage devoid of sacrifice. It is a model for how they represent their country and everyone in Norway. Glad comes in Romania, the «Home Escape». Us responsible participation and recognize them as I would like to come to Transylvania Race Bike Trails, explore the variant "of the country" Romania ".
Gunn-Rita Dahle Flesja will stay in Romania for several days and will return with her schedule public following press release. Do not miss the opportunity to talk to her, take pictures and I get an autograph!
It came in the week preceding the contest, and the steps are well known by the participants. Registration is at an accelerated pace and was exceeded 2.200. It can make online registrations until Wednesday 15 May at 15, then Caro Bucharest City Resort, located on Blvd.. Barbu Văcărescu, No.. 164 A, Thursday and Friday from 18:30 – 21 and Saturday until 16.
In these three days is distributed numbers competitors and participation kit. More information about this can be found at primaevadare.ro/pachetul-de-inscriere-2019.
As every year, competition is preceded by a series of contests on her Facebook account. Some guests mention prizes "First Escape", Merida bike Big.Nine 200 offered BikeFun, a cleaner and a portable tent Karcher suspended OC 3 and cleaning accessories bicycle.
And the last two editions, will not miss the live broadcasts on the competition website and on its Facebook, every Thursday night, Friday and Saturday, from Caro Bucharest City Resort, and Sunday morning, one hour before the start (now 10, near the Police Academy "Alexandru Ioan Cuza", Alley Nightingale, No.. 1 A) and in the evening, by hour 18, After the usual raffles and awards ceremony at Snagov. these issues, with comments, interviews and stories, will introduce the progress of the race, but will provide as much information as participants in the competition, and for cycling enthusiasts who participate or who can not come on the beach at Snagov.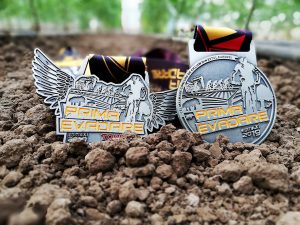 Whatever the weather, route will be presented in very good conditions, They are created several years and option for rainy days, shorter, with cobblestone paths, grass and asphalt. It is for weeks the attention of organizers and so will be to start. In recent years, they did extensive fitting, It is much faster than the first edition and can be used all year for walks and workouts. Which it recommends people running it, before competition. For better prolog and in case you failed to attend one of the two official recognition, You can search for desired group Workouts First Escape.
Race is monitored and tracked all its detail using hundreds of volunteers, two helicopters, intervention vehicles, Police and emergency crews. There are areas of food and water on the track and at the end, cleaning bikes and showers for cyclists on arrival, points solving technical problems encountered, a hot meal at the finish and buses to bring competitors in Bucharest.
On arrival at Astoria Complex in Snagov, will wait, Besides atmosphere, surprise cash prizes and bicycle accessories, the winners of the 15 categories, medals, Buckets, diplomas, shirts first 100, medals for first 500, and each contestant crosses the finish line and Mehrzad paste prepared by Chef famous Moghazehi!
Unforgettable will also be photo album that you will receive at the end.
before the race, Do not forget to inform them of the route primaevadare.ro/update-traseu-2019, and read the tips offered by the organizers primaevadare.ro/sfaturi.
services / facilities provided by the organizers participants:
mark, landscaping and cleaning route - 55 km;
the live competition the page: https://primaevadare.ro/live/ and https://www.facebook.com/primaevadare
timing of 7 laps;
shirts "Top 100" - offered the best 100 competitors;
medals cast in metal "Top 500" - offered first 500 competitors;
molded metal medals for all competitors crossing the finish line;
custom photo album for each participant and the result notification service via SMS;
Kaufland portion of pasta offered by Chef Mehrzad Moghazehi;
shirts for each participant;
competing transport services / Bicycle (Arrivals to the Start) – 14 buses
awards over 8.000 euro;
award winner: 1.600 Lei;
legitimated athletes prize (7 competitors): 6300 Lei;
competition categories (15): Elite Male, Elite Women, Ciclocros, female Amateurs, Male 15-19 year, Male 20-29 de ani, Male 30-39 de ani, Male 40-49 de ani, male fish 50 de ani, Tandem, Company, Couple, Family (4-8 years 9-14 year) and Extended Family (9-14 year);
Power points (4), First aid, encourage competition and service route and finally;
3 days for lifting packages contest (16-18 more, program: Thursday Friday 18:30 – 21, Saturday 11 – 16:00);
Laundry bicycle and bicycle cleaners Karcher - 20;
3 Emergency crews;
11 police crews;
300 volunteers;
film crew;
20 Photographers officials;
Wardrobe - special car intended for transporting objects / Start by Finis clothes;
film with historical sites and points of leisure route;
film event.
The event is organized by Nomad Club Multisport and enjoys the support of traditional partners Renault, Kaufland, Merida, CST, Karcher, CARO City Resort and friends from RedBull.
For further details you can access www.primaevadare.ro.
Doina Țiței, Nomad Sports Club Multisport
Email: info@ nomadmultisport.ro